How to Record a Bill or Purchase Invoice
Tip: You can copy an existing purchase invoice by selecting it in the Purchase Invoices list and clicking menu Edit > Copy.
To create a purchase invoice, click menu File > New > Invoice. In the Invoice window, change the Document Type to 'Purchase Invoice':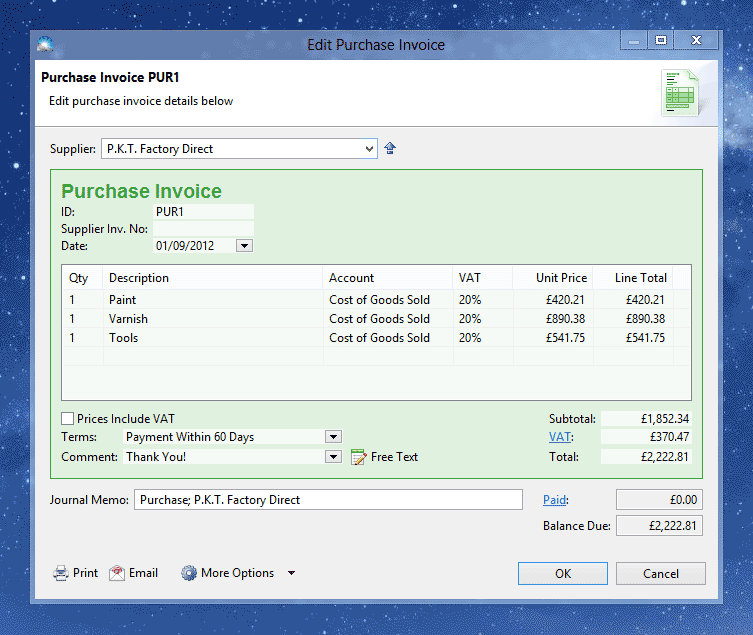 (Note: The VAT column is only shown if your business is registered for VAT)
Enter the details of your purchase into the following fields:
Supplier: The name of your supplier. To create a new customer, click 'New Supplier' from the drop-list.

ID: A unique number for your records.

Supplier Inv. No: The invoice number used by the supplier. Can be left blank.

Date: The date on the purchase invoice.

Qty: The quantity of goods or services provided (e.g. 15 kilograms or 8 hours)

Description: A description of the goods or services provided. To enter a long description with multiple lines, click the ellipsis ('...') button to the right of the current description field.

Account: An expense account used to categorise the purchase, eg. 'Electricity' or 'Accounting Services'.

VAT Column (only shown if registered for VAT): This is the rate of VAT your supplier charges you.

Unit Price: This is the price you are charged per unit of goods or services (e.g. £4.70 per kilogram or £40 per hour)

Line Total: The total amount for the invoice line – automatically calculated as Quantity multiplied by Unit Price.

Prices Include VAT: By default, the Unit Price and Line Total amounts do not include VAT. Tick this box if you prefer to enter the amounts including VAT.

Comment: Any comment that appears on the invoice.

Subtotal: The total of all invoice lines.

VAT: The total VAT you pay to the supplier.

Total: The total amount you pay to the supplier.

More Options > VAT Treatment (only shown if registered for VAT): This list determines how your purchase will affect your VAT return. Select the option which best describes the purchase.

Journal Memo: A description of this purchase to appear in your transaction list.

Paid Today (only shown for new invoices): If you make a payment to the supplier on the date of the invoice, enter the amount paid here. This will create a new payment associated with this invoice.

Paid (only shown for existing invoices): This is the total amount paid to the supplier for this sale.

Balance Due: The amount owing to your supplier. This is the difference between the invoice total and amount paid.
Once you've entered the purchase invoice details, click OK to save it.
The invoice will appear in the Purchase Invoice list (click menu Window > Purchase Invoices).