How to Change the Default VAT Rate
You can update the default rate of VAT in Solar Accounts as UK legislation changes.
Tip: If you are registered for the Flat Rate Scheme for VAT, you may also need to update the flat rate percentage.
To change the default VAT rate, click menu Setup > Contact Details & VAT, then click the default VAT link under 'VAT Details':

The Default VAT Rate window will be shown: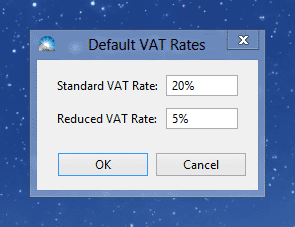 Enter the new rate and click OK. This rate will then become the default for VAT transactions such as invoices.