How to Record a Bank Deposit
Your business will usually receive payments from customers in the form of cash or cheques. When you come to deposit this money into the business bank account, you should record this as a General Transaction:
Click menu File > New > General Transaction. The General Transaction window will appear: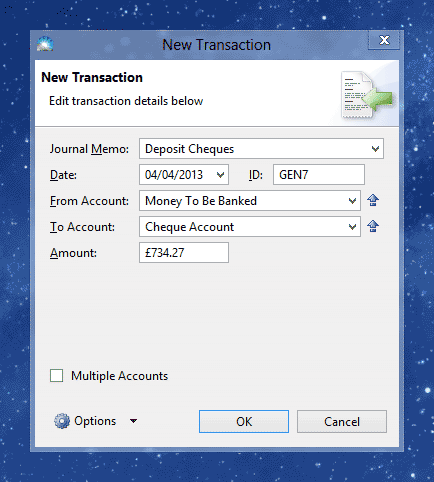 Enter the details of your transaction into the following fields:
Journal Memo: A description of the transaction for your records, e.g. 'Deposit Cheques'.

Date: The date you made the deposit.

From Account: This is the account the money comes from. This should usually be 'Money to be Banked' as this is the account used when recording a payment to keep track of the cheques and cash received.

To Account: The bank account receiving the deposit. This is usually 'Cheque Account', but could also be 'Mastercard', 'Bank Loan', etc.

Amount: The amount of the deposit.
Once you've entered the deposit details, click OK to save it.
The new transaction will appear in the Transactions list (menu Window > Transactions).