How to Record an Expense
Note: If your supplier allows you to delay payment on your purchase, you should record this as a purchase invoice.
To record an expense, click File > New > Money Paid Out. The Money Paid Out window will appear: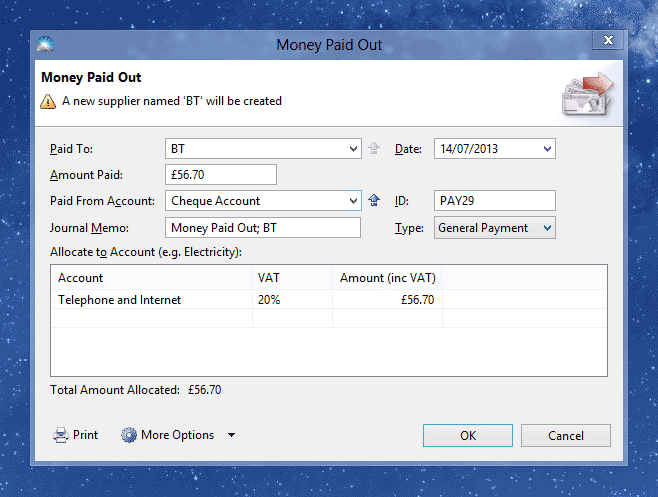 Note: The Type will default to 'General Payment' only if there are no outstanding invoices for the supplier.
Enter the details into the following fields:
Paid To: Enter the supplier name. (If you don't need to keep track of individual suppliers, enter 'Unknown Supplier'). If there are oustanding invoices with this supplier the payment Type will default to 'Invoice Payment' – see How to Record a Purchase Invoice Payment.

Date: The date you made the payment.

Amount Paid: The amount of money you paid to your supplier.

Paid From Account: The account used to pay the supplier, e.g. 'Petty Cash' or 'Mastercard'.

ID: A unique number for this payment.

Journal Memo: A description of this transaction for your records.

Type: This is the type of payment. If there are no outstanding invoices with this supplier, this will default to 'General Payment'.

More Options > VAT Treatment (only shown if registered for VAT): This list determines how your purchase will affect your VAT return. Select the option which best describes the purchase.

Allocate to Account: Enter an expense account used to categorise the payment, eg. 'Electricity' or 'Accounting Services'.

VAT Column (only shown if registered for VAT): The rate of VAT your supplier charges you.

Amount Column: The amount applied to the account, inclusive of VAT.

Total Amount Allocated: This is the total of the Amount column, and must equal the Amount Paid.
Click 'OK' to save the payment. The new transaction will appear in the Transactions list (menu Window > Transactions).